Custom Search
Home > Local Businesses > Chartered Accountants
Local Businesses : Chartered Accountants
Chipping Campden Local Businesses : Chartered Accountants listings for 2011. More reasons to visit Chipping Campden and the Cotswolds (or explore the Chipping Campden local business listings if you're a resident).
All our listings are for Chipping Campden or the neighbouring villages such as Blockley, Broad Campden, Ebrington, Moreton-in-Marsh, etc. Services and businesses are also listed for the general Gloucestershire area as long as they serve Chipping Campden and the Cotswold area.
---
Michael Lindner
Audit and accounts preparation. Advice on all aspects of taxation and self-assessment. Completion of tax returns.

Arden House, Sheep Street, Chipping Campden, Glos, GL55 6DR
Tel: 01386 840035
---
Mark Kirkbride & Company Limited
Specialist taxation avisors and accountants including personal and business tax, estate planning and trusts.

Greenbanks, Hoo Lane, Chipping Campden, Glos GL55 6AZ
Tel: 01386 849008
http://www.markkirkbride.co.uk
---
ACC BOOKKEEPING
Bookkeeping ServicePayrollSage Line 50Sage PayrollHMRC Returns

70 Cedar Road Mickleton Chipping Campden
Tel: 07977936773
http://www.accbookkeeping.co.uk
---
---

Got a local business? (Want to start one?) Got a website? Does it get enough visitors that turn into customers? Chances are the answer to that last question is "No". But it doesn't have to be that way, not if you create a content-based website first (based around your business) whose first aim is to help... Site Buildt It! can help you do this and a lot more. Site Build It! is great for local businesses...
---
Notes:
1) Top 3 and Priority listings appear first!

2) If you found the Campden service you were looking for then please let them know that you found their listing on Chipping-Campden.net! And if you're still looking, check out our other links for accommodation, antiques, art, food and drink, jewellery, home and garden, shopping or other local business listings.


---
Like this Chipping Campden page?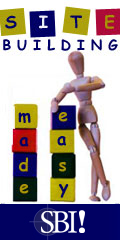 Site Build It! is suitable for local business owners or anyone, actually, who wants to create a successful web business!