Custom Search
Home > Historic Houses
Historic Houses
Chipping Campden Historic Houses listings for 2011. More reasons to visit Chipping Campden and the Cotswolds (or explore the Chipping Campden local business listings if you're a resident).
All our listings are for Chipping Campden or the neighbouring villages such as Blockley, Broad Campden, Ebrington, Moreton-in-Marsh, etc. Services and businesses are also listed for the general Gloucestershire area as long as they serve Chipping Campden and the Cotswold area.
Related Businesses or Services:
---
Hidcote Manor Garden
A series of outdoor rooms makes up the garden at Hidcote Manor, old roses, unusual plants and wonderful views.

Hidcote Bartrim, Chipping Campden, Gloucestershire GL55 6LR
Tel: 01386 438333
http://www.nationaltrust.org.uk/hidcote
---
Hudson's Historic Houses
Website of historic properties and gardens in the Cotswolds (and rest of UK)

High Wardington House, Upper Wardington, Banbury, OX17 1SP
Tel: 01295 750750
Fax: 01295 750800
http://www.hudsonsheritage.com/south-west/gloucestershire-properties.html
---
Kiftsgate Court Gardens
The creation of three generations of women gardeners, Kiftsgate Court Gardens is a series of interconnecting gardens each with its distinct character and secrets. Let them share their secrets with you.

Chipping Campden, Glos, GL55 6LN
Tel: 01386 438777
;Fax: 01386 438777
http://www.kiftsgate.co.uk
---
Mill Dene Garden
1 hectar garden includes a misty grotto, a bog garden and stream. There are plenty of seats from which to enjoy the mill pond and its trout, kingfisher and ducks. It is an exercise in making the most of a difficult and steep sided site. It is also an exercise in creating something beautiful in which to meditate and to nourish the senses.

School Lane, Blockley, Moreton in Marsh, GL56 9HU
Tel: 01386 700457
http://milldenegarden.co.uk/
---
Burton House Garden
Cotswold garden.

Burton House Garden, Bourton-on-the-Hill, Moreton-in-Marsh, Glos, GL56 9AE
Tel: 01386 700754
http://www.bourtonhouse.com
---
Sezincote
Historic house and garden.

Sezincote House, Nr Moreton-in-Marsh, Gloucestershire, GL56 9AW.
Tel: 01386 700444
http://www.sezincote.co.uk/
---
---
---

Got a local business? (Want to start one?) Got a website? Does it get enough visitors that turn into customers? Chances are the answer to that last question is "No". But it doesn't have to be that way, not if you create a content-based website first (based around your business) whose first aim is to help... Site Buildt It! can help you do this and a lot more. Site Build It! is great for local businesses...
---
Notes:
1) Top 3 and Priority listings appear first!

2) If you found the Campden service you were looking for then please let them know that you found their listing on Chipping-Campden.net! And if you're still looking, check out our other links for accommodation, antiques, art, food and drink, jewellery, home and garden, shopping or other local business listings.


Related Businesses or Services:
---
Like this Chipping Campden page?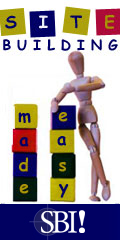 Site Build It! is suitable for local business owners or anyone, actually, who wants to create a successful web business!