Custom Search
Home > Accommodation > Bed and Breakfast
Accommodation : Bed and Breakfast
Chipping Campden Accommodation : Bed and Breakfast listings for 2011. More reasons to visit Chipping Campden and the Cotswolds (or explore the Chipping Campden local business listings if you're a resident).
All our listings are for Chipping Campden or the neighbouring villages such as Blockley, Broad Campden, Ebrington, Moreton-in-Marsh, etc. Services and businesses are also listed for the general Gloucestershire area as long as they serve Chipping Campden and the Cotswold area.
---
1. Kissing Gate & Pump Cottage
We offer a choice of accommodation. Kissing Gate B&B holds Four Star Gold and Breakfast Awards from Visit Britain and offers luxury ensuite bedrooms, a beautiful guest lounge and stunning conservatory. Pump Cottage offers self-catering accommodation for up to 4 people in a gorgeous three hundred year old Cotswold cottage. Both situated in the lovely village of Ebrington.

Kissing Gate, Coldicott Leys, Ebrington, Chipping Campden, GL55 6NZ
Tel: 01386 593934
http://www.kissinggate.net
---
2. Ebrington Arms
17th Century Inn. North Cotswolds CAMRA Pub of the Year award winner 2009, 2010, 2011, 2012. Two rosettes for our food, fine real ales & wines. 5 4-star ensuite letting rooms. Open fires, large beer garden, car park. Recommended by The Guardian, The Times, Telegraph & Trip Advisor's Top 10 UK Gastro Pubs with rooms.

Chipping Campden, Gloucestershire, GL55 6NH
Tel: 01386 593223
http://www.theebringtonarms.co.uk
---
3. Staddlestones Bed & Breakfast
AA 5 gold stars Highly Commended. A beautifully appointed family run B&B, just a short walk from Chipping Campden. Three double ensuite rooms, all with TV/DVD, tea/coffee, complimentary toileteries, hairdryer, alarm clock and plenty of parking.

7 Aston Road, Chipping Campden, GL55 6HR
Tel: 01386 849288
Fax: 01386 849288
http://www.staddle-stones.com
---
5. Cherry Trees
Situated 150 metres from the Aston Road yet within a few minutes walking distance from the town centre, with outstanding views of the surrounding countryside. We offer 2 king size rooms and one twin room. Our family run bed and breakfast offers the ideal location in the heart of the Cotswolds.

Cherry Trees, Aston Road, Chipping Campden, GL55 6HR
Tel: 01386 840873
http://www.cherrytreescampden.com
---
6. The Court
The Court is large Tudor Cotswold stone house dating back to 1620, just off Chipping Campden High Street. It has 6 double and 2 single rooms from £50.00 to £80.00 a night. All rooms have tea/coffee making facilities and all double rooms have Freeview TV. Two double bedrooms are en suite and two have their own private bathrooms, all have double beds. Two sitting rooms one with a log fire. Gardens and a tennis court, and parking in Calf Lane. Well behaved children and dogs are very welcome. Two night stays only during high season on weekends. One night stays are welcome during the week and in low season. It is not suitable for disabled people because of the stairs.     

The Court, Calf Lane, Chipping Campden, Glos GL55 6JQ
Tel: 01386 840201
http://thecourtchippingcampden.co.uk
---
Badgers Hall Tea Rooms
Coffees, lunches and teas. Licensed

High Street, Chipping Campden, Glos, GL55 6HB
Tel: 01386 840839
http://www.badgershall.co.uk
---
Marnic House
Bed and Breakfast

Broad Campden, Glos, GL55 6UR
Tel: 01386 840014
Fax: 01386 840441
http://bit.ly/yDCtc2
---
---

Got a local business? (Want to start one?) Got a website? Does it get enough visitors that turn into customers? Chances are the answer to that last question is "No". But it doesn't have to be that way, not if you create a content-based website first (based around your business) whose first aim is to help... Site Buildt It! can help you do this and a lot more. Site Build It! is great for local businesses...
---
Notes:
1) Top 3 and Priority listings appear first!

2) If you found the Campden service you were looking for then please let them know that you found their listing on Chipping-Campden.net! And if you're still looking, check out our other links for accommodation, antiques, art, food and drink, jewellery, home and garden, shopping or other local business listings.


---
Like this Chipping Campden page?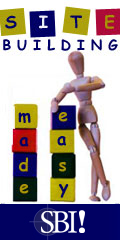 Site Build It! is suitable for local business owners or anyone, actually, who wants to create a successful web business!